Peter Bright (aka
This Window
) will be exhibiting at least three new prints at an exhibition called, '
Offset
'. Offset is an exhibition of prints by North Devon Artists at
West Buckland School
which starts March 5th.
Below are a couple of recent exhibition contributions: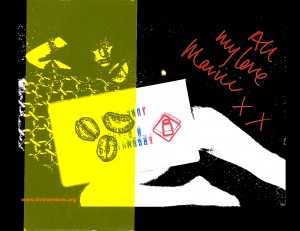 Here is an image that was exhibited at
The Alabama Art Kitchen
(An Art Collective) 2626 University Blvd. Tuscaloosa, AL 35401, USA, during February 2012.
---
Has Jesus cast out the money lenders from the temple or is he charging rent?
This is the print was exhibited at
Cheim & Read
, 547 W 25th Street, New York, USA. (
January 2012
)
"I was delighted to be included in this exhibition which also featured artworks by Jeff Koons, Yoko Ono, John Waters, Donald Baechler, Marilyn Minter, Ed Ruscha, Polly Apfelbaum, Adam Fuss and Kiki Smith."
Related articles